Scrollytelling is a hot trend in online journalism! All the leading players in the media industry have joined the quest for applying innovative storytelling methods. Photos, data visualizations and video effects are combined to produce engaging and impactful stories.
The word "scrollytelling" itself is a combination of "storytelling" and "scrolling". It refers to  online multimedia stories that unfold as you scroll. The stories can be longreads that allow users to choose which parts or aspects they want to explore. Since the New York Times is known for its innovative approach to storytelling, here's one example of how they do it.
Scrollytelling doesn't have to rely on reading that much, though. Instead, it can communicate through audio-visual content that changes as you scroll. Another New York Times article includes very little text as it guides you through the story. But it's rich in photos and videos, including audio narration and an interview with the skier Ted Ligety. David Leonhardt and Steve Duenes of the New york Times wrote:
We put together an interactive graphic that brought readers onto the slopes to explain his approach to the giant slalom, turn by breathtaking turn. After Ligety won the gold medal, he was repeatedly asked how he did it. He responded by directing people to look at The New York Times.
It starts with a headline, a "hook" consisting of two sentences drawing readers into the story, and a high quality photo stretching across the entire screen.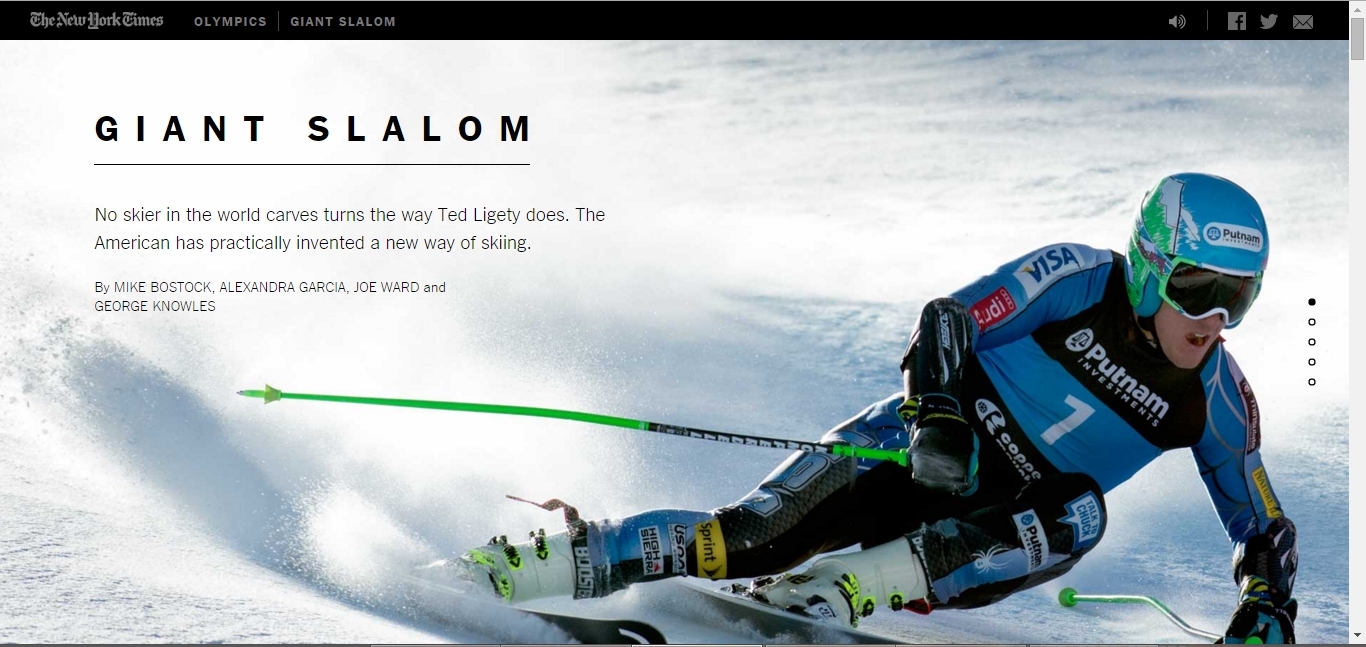 If you scroll down, the photo fades out as a video starts playing. If you then decide to continue before the video is over, the sound volume gradually decreases as you move on, and the images slowly merge. Keep on scrolling, and the next blurry photo sharpens, eventually turning into another video with cutting edge visual effects. Slow motion and animations make it easy for the audience to understand the point.
Visualizing big data
Data visualizations are important in online journalism (you can read more about this on the NewsNext blog here and here). This article from the Tampa Bay Times relies exclusively on explaining and visualizing data to tell the story about racism in public schools. As you go further, you will see that multiple graphs are based on the same "less black – more black" scale, allowing comparisons between them. Other graphs allow easy comparisons across time.
Here's another good example of how big data can be used in scrollytelling to visualize and compare global trends across time and space. It's a story about the impact of demographic trends in Africa on the future of the continent and the world, published by the Wall Street Journal.
There are various online tools for producing nice multimedia stories. BBC and the Guardian use Shorthand. Deutsche Welle and France24 use Klynt. Dutch newspaper de Volkskrant use Scrollytelling (which obviously got the best name). But there are also open-source platforms targeting freelancers, such as Creative by Atavist.
Scrollytelling can be a good strategy for attracting the audience and explaining complex issues. Research has shown that readers prefer to be guided through the content, rather than choose entry points or reading strategies themselves. Motivating the readers to engage with content also increases when images and text are put closely one to another, which is common in scrollytelling as text is often written over images.
Journalism or entertainment?
Excellent multimedia storytelling often requires collaboration between journalists, developers and designers. Does a story about a skiing style deserve so much time and money? Is scrollytelling improving journalism, or is it improving entertainment? Is it serving the public, or only generating profit?
From now on, you should replace "Snowfalling" with "Greenlanding". Such impressive scrollytelling: https://t.co/Fbpv1XAPIO

— Simon Hurtz (@SimonHurtz) October 27, 2015
It can and it should do both. Journalism has to rely on financially sustainable models in order to survive, but that's no excuse for neglecting the need for good journalism in a democracy. However, the definition of "good journalism" is a subject to debate. Much of recent scholarly literature dealing with this stresses the importance of producing engaging and appealing journalistic content.
Good journalism is worthless if it doesn't reach people. Relevant information is useless if it's not properly handled and presented to the right audiences. Journalists must produce engaging content. In the quest for improving a society, good journalism must combine entertainment and public value properly, and in doing so it must rely on all the technological tools available.